Send us your questions on weird and alternate science!
For more Q&A check the archive!
See where to send your question at the bottom of the page.
---
Power From a Thunderbolt - Could a power company use lightning rods to collect electricity?- John
The idea that you might be able to harvest electrical energy from lightning is one that scientists have found intriguing for many years. Anybody who has seen the 1985 hit movie Back to the Future knows that Doc Brown was able to use a bolt from a thunderstorm to power his DeLorean/time machine and send Marty McFly back to his own era.
Doc Brown had one advantage in using lightning that most scientists don't, however. Because of his time machine he knew exactly when and where the lightning was going to strike. That's one of the major problems with trying to harness this source of power. We don't know exactly where lightning is going to hit, or how powerful the bolt will be.
This hadn't stopped scientist from trying to make it work. After all a lighting strike can carry a lot of power. As much as five billion Joules of energy which would be enough, by some estimates, to power a single household for a month.
One idea is to build a series of tall towers in an area that has frequent thunderstorms in the hopes that they will get struck on a regular basis. A sort of a "lightning farm." The best place for something like this would be Florida or the Pacific Coast as those locations get the most lightning strikes per square mile.
Even with towers in those locations, however, strikes probably would not be regular enough to make the system economical. However, it might be possible to get lightning to strike on cue using a laser. Scientists have been successful in using a high-powered laser with a short pulse to create what's known as a laser-Induced plasma channel. The idea is that the laser heats the air so much that ionizes the gases to form plasma. The plasma conducts electricity much more easily than the surrounding air so an electrical charge will travel down the laser's path.
Most of the development of this had been by the military. Imagine being able to direct an artificial lightning bolt via laser to an enemy target. It might be able to disable enemy weapons or detonate munitions at a distance. Using smaller electrical charges (like those in a Taser) you might be able to build a stun gun like those seen on Star Trek.
A commercial application of the technology, however, might be to use the laser to create a path from the lightning farm up into thunderclouds to initiate a lightning strike directly onto your power collection equipment.
Of course this brings a new concern. Can you really build a tough enough system to withstand the surge of five billion Joules of energy? An Illinois inventor named Steve LeRoy came up with an idea of how to make it work and demonstrated it using an artificial lightning bolt that lit up a 60-watt light bulb for 20 minutes. In 2007, an alternative energy company called Alternate Energy Holdings, Inc. (AEHI) tested his design. The idea was that a lightning tower would capture the bolt and some of the energy would be sent to a capacitor with the rest just being shunted off into the ground. After working with the idea for a while the company's CEO, Donald Gillispie, concluded that they "couldn't make it work," although "given enough time and money, you could probably scale this thing up... it's not black magic; it's truly math and science, and it could happen."
So maybe getting power from lightning still might be possible. Some experts, however, question whether such a system will ever be practical. Martin A. Uman, co-director of the Lightning Research Laboratory at the University of Florida noted that while a single lightning strike is fast and bright, only a small portion of the energy it actually has reaches the ground. "The energy is in the thunderstorm," he explained. "A typical little thunderstorm is like an atomic bomb's worth of energy. But trying to get the energy from the bottom of the lightning is hopeless."
---
A Million Mile-Per-Hour Wind - How do the Voyager spacecraft survive the (according to NASA) "250,000 to one million per hour" solar winds while traversing the heliopause? Shouldn't they be obliterated? - Maureen
Well, the first thing we should do is define what the solar wind is. It isn't quite like the wind we experience here on the surface of the Earth.
The solar wind consists of charged particles of the sun that have some gotten so much kinetic energy (from heat of the sun's corona) that they can escape from the sun's strong gravity. These particles are mostly subatomic elements (pieces of atoms) like electrons or protons. Depending on the activity around the sun the particles, as you noted, can pick up considerable speed.
On earth our wind consists of air, which is molecules of gas (about 80% percent of air is nitrogen and most of the rest is oxygen). The air we have here on the surface is very dense because it is under pressure. The pressure comes from the thickness of the atmosphere above us which extends upward for around a hundred miles. This causes the air to press against you if you are standing at sea level at around 14.7 pounds per square inch. You don't really notice this, however, because it comes at you equally from every direction.
How much the wind pushes against you (its force) isn't just a function of the speed of the wind, it is also involves the density of the air. The lower the density of the air, the less the wind pushes against you.
Now if you were standing on Earth and you were hit by a million mile per hour wind, there wouldn't be much left of you. That kind of pressure applied to your body would tear it apart. Even a shock wave of pressure (let's say from an explosion) traveling at a few hundreds of miles an hour can be very damaging and knock down a building.
However, there is a big difference between the density of the air at sea level and the density of the solar wind in space. In fact it's round a trillion to one difference. To get an idea of what this means imagine a box one inch square filled with air at the pressure it is at sea level. To get that air down to the density of the solar wind you would have to extend that box so it was still was one inch in height and depth, but almost 16 million miles long, while still containing the same amount of air.
So while the solar wind can go whipping by at a million miles per hour, the density is so, so low that it effectively creates no pressure on something like the Voyager spacecraft. Yes, the probe carries sensitive instruments that can detect the wind, but if you were out there with the spacecraft you would be unable to feel any pressure against your hand if you were able to hold it out in the solar wind.
In fact, the further the solar wind gets from the sun, the slower it goes. This means that the Voyagers at the edge of the solar system experience much less solar wind than say the Apollo spacecraft that carried the astronauts to the moon. The heliopause, which one of the Voyager spacecraft just crossed, is actually the boundary where the solar wind is so far from the sun that slows to a complete stop, blocked by the interstellar medium (which is really the result of solar winds from surrounding stars).
This might lead you to ask the question, "What happened to Voyager when it hit the interstellar medium?" Well, the answer is "not much," because it, like the solar wind, has an extremely low density.
Just because the solar wind is has little density, however, doesn't mean that it can't have a big effect on the solar system. Most of the effect it has, however, is due to the electrical charge of the particles. A good solar flare can send a shock wave of highly charged particles close to the earth that can damage the electronics inside satellites and upset radio transmissions.
---
The Shape of the Universe - Sir Stephen Hawking once said that if one stands long enough at one spot, he can see the back of his head, due to the curvature of space/time. Of course, this will take billions of years. By the same token, now that Voyager has left our solar system, will it ever come back to Earth having circumnavigated the universe, assuming all things remain equal? - Nanshir
I looked for this quote from Hawking and I haven't found it. However, this type of example has been used by many cosmologists when they are trying to describe the shape of the universe, so it's perfectly believable that Hawking might have used it too.
In this scenario, called a closed universe, the universe curves back on itself like a big sphere. It is said that if you stand somewhere long enough (and with a powerful enough telescope) you could peer deep into space and see you backside (provide you waited long enough). By the same token the voyager spacecraft would eventual comeback to Earth again in some very, very distant future by circumnavigating the universe. (Imagine and ant walking across a basketball. The ant is voyager and the universe is the basketball).
While this example is great tool for college professors to explain the shape of a closed universe to astronomy 101 students, it would never actually work. The most obvious problem is that even if we are in a closed universe, it is expanding and has been ever since the big bang. The furthest parts of the universe are actually moving away from us faster than the speed of light. So if you were standing there looking for the back of your head through a telescope you would never see yourself because the light that bounced off of you carrying your image can never catch up the with the expanding universe (Imaging an ant trying to walk around a huge, rapidly expanding balloon. He can't do it because the balloon expands much faster than he can walk).
Since voyager is going way slower than the speed of light, it hasn't got a chance of actually returning to us through by this method either.
The closed universe, however, is just one of the possible shapes the universe can have. Much of the current evidence actually favors a flat universe, like the top of a table.
Some recent data from NASA's Wilkinson Microwave Anisotropy Probe, or WMAP, however, suggests the universe might actually be saddle-shaped. (This might seem like a really odd shape for a universe, but it permits the points along the outer edges to be as distant from each other as possible).
The WMAP was designed to investigate the Cosmic Background Radiation (CBR) left over from the big bang. The CBR can be detected at every direction in space and it was thought to be very uniform. However, WMAP measurements have shown the CBR to be just slightly colder in one direction than another. This might suggest that the universe is indeed saddle-shaped (Another theory is, however, that the difference might have been caused by another universe bumping into ours).
So the question of the shape of the universe isn't really settled yet. One thing we can be sure, however, is that we won't see voyager coming back to us anytime in the near future (unless it is carried by a humongous alien probe like in the 1979 film Star Trek the Motion Picture).
---
Life by Any Other Name... - In science fiction there are sentient, intelligent alien species: Many are air-breathers, but many more are methane-breathing or silicon-based creatures. Scientifically speaking, can there actually be methane-breathing and/or silicon creatures? - David
The first part of your question - "can there be methane-breathing creatures?" - is easy to answer: Yes. And we don't even need to leave the Earth to find them. They are called "methanophiles." One example of them is Methylococcus capsulatus, a bacteria that is often found in soils, landfills, sediments and peat bogs. This little critter was in the news a few years ago because it was the first methane breathing creature to get its genome sequenced. Scientists interested in biotechnology are quite intrigued with Methylococcus capsulatus as a possible mechanism to make useful products or services.
So it isn't inconceivable at all that somewhere out in space you might find creatures - maybe even intelligent ones - that breath methane. In fact, scientists analyzing data from the Cassini spacecraft that has been watching the Saturn moon Titan have suggested there may be methane involved life on its surface. Hydrogen and acetylene have been disappearing from the moon's atmosphere for no good reason. It may be that there is a microbe on the planet breathing in these compounds and breathing out methane.
The question of silicon based life, however, is a little more complicated. Currently all the life we know on Earth (including Methylococcus capsulatus) depends on organic molecules based on carbon. Carbon in many ways is a unique element. Its bonding versatility allows it to form itself into many molecules with differing structures - rings, long chains and multi-ring chains. It can also double-bond itself with some atoms. This allows it to make complex molecules which, in turn, make life possible.
Now, as you mentioned, science fiction stories often picture life that might be based on another element, usually silicon. (Probably the most famous of these is the original Star Trek episode "Devil in the Dark" in which a silicon based life form, called a Horta, finds itself at odds with Captain Kirk).
Silicon in many ways seems like a viable substitute for carbon. It's just below carbon on the periodic table. It can also form many interesting and complex molecules too. However, when we actually look for these we see few of these molecules formed in nature.
If we point our telescope towards the skies and use the observations of the spectra of light to see what elements are prevalent, we find a lot of carbon and not much silicon. Even more important, we can find a lot of complex organic (carbon-based) molecules that form naturally, but very few similar complex molecules based on silicon. This is because the processes that forms heavier elements in the heart of stars favors carbon over silicon. Also many of the structures that carbon so easily forms would be unstable if you had the silicon equivalent. While the largest silicon molecule observed in nature has only had six silicon atoms, there are molecules found in nature that can have thousands of carbon atoms.
Now this does not mean that some kind of silicon life might not be possible, just unlikely. If you could find the right environment, perhaps deep inside a planet with high pressures and temperatures, the possibility of silicon life forming might be much larger.
This raises and interesting idea. Could we make synthetic silicon life under the right conditions in a laboratory? So far this is science fiction, but who knows.
One final thought: Our computers use chips that are silicon based. While computers don't have biological cells, one could argue that if we ever make intelligent computers that can reproduce themselves, perhaps we have indeed created a form of silicon-based life!
---
Nuke vs. Asteroid - I read somewhere that the reason a nuclear bomb causes so much damage is that it superheats the surrounding air which expands very rapidly to create the blast. I also read that a way to stop large asteroids hitting the earth would be to use a nuclear missile to either blow it up or use the blast to move its orbit. How would this work in the vacuum of space? - Mike
The idea of using nuclear weapons to blow up an incoming asteroid to save the Earth has long been a theme of science fiction movies, short stories and books. However, when the scientists at NASA that were charged with coming up with a scheme to deal with an incoming space rock were initially very concerned about the ramifications of such a strategy. The problem is that many asteroids are not so much a single large rock as a loose collection of boulders clinging together based on their slight gravitational attraction to each other. Scientists were concerned that if an asteroid large enough to end all life on our planet (say 6.2 miles or 10 kilometers across or bigger) was hit with a nuclear tipped missile it might simply fracture into several different pieces, all bound for Earth. The effect of these separate smaller impacts on Earth might be even worse than a single large impact.
For this reason they thought the idea of using something other than nuclear weapons to nudge the asteroid off course might be the way to go. For example, using a robot spaceship to push the asteroid onto a new course. Or having a spaceship fly alongside the asteroid and use a laser to vaporize bits of the asteroid. The parts that were vaporized would be turned into gas which would expand and push the asteroid in the opposite direction. Even painting the asteroid with a reflective color on one side, so the sunlight reflected off it (imparting a slight nudge to it) instead of being absorbed might be enough to change its direction over time.
The problem with all of the above solutions, however, is that they take time. You would have to know that the asteroid was going to hit Earth several years in advance for these low power pushes to change the asteroid's course. If you suddenly learned only a few weeks in advance that a collision was going to take place, you'd need to take a more direct approach.
NASA found that the most effective way to handle a last minute encounter with an incoming space rock was employing one or more nuclear weapons. They considered using surface explosions, delayed surface explosions, subsurface explosions and standoff explosions. The best solution was standoff explosions where a nuclear device is actually not detonated on the asteroid, but at some distance. The method was deemed the least likely to split the asteroid into smaller, and perhaps more dangerous, pieces.
Since, as you point out, that shock wave from a nuclear blast can't effectively cross that vacuum of space, how would such a method work? Well, the destructive force of a nuke doesn't just come from the shock wave. It also destroys with heat. If you look at some of the old atomic test bomb movies where they filmed a house in the path of a nuclear blast you will see the first thing that arrives at the building when the device goes off is an intense wave of electromagnetic radiation, including light (especially infrared light which is heat). The outside wall of the building starts smoking and catches on fire. Then a few seconds later the blast wave hits and actually knocks the building down.
In space you wouldn't get the blast wave because there isn't any air to transmit it. However you do get the infrared light and other electromagnetic radiation. This will vaporize the top layer of the asteroid in the direction facing the blast. The expanding gas from the vaporization will push the asteroid off course. Since the vaporization is widely distributed across the face of the asteroid the push is unlikely to cause a split.
The best part of this scheme is if it turns out that one standoff blast isn't enough, you can immediately try another and another until you pushed the asteroid far enough in one direction to miss the Earth.
---
Ancient Egyptian Lights - I have seen and heard many crackpot ideas about Egypt and the most absurd to me is the assertion that they had and used electric lighting. Yes, I know about the Bagdad Batteries but I already know they don't have enough power to light a modern LED, much less a normal incandescent lamp. My question is this... Is there anything found among ancient ruins confirms that they had access to electricity OTHER than the batteries? - Anonymous.
People often look at ancients pictures or reliefs and see something that looks very modern. People have seen rockets, spacesuits and airplanes in art work thousands of years old. The problem is, of course, that just because an object looks familiar to our modern eyes, doesn't mean that that our interpretation is what the ancients' had in mind when the created the artwork.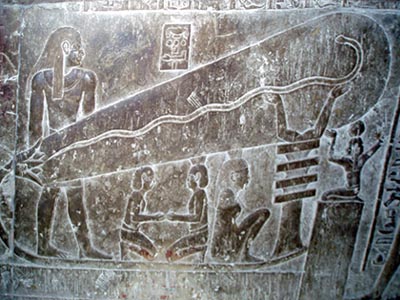 In the case of electric lights in Egypt two Austrian proponents of the idea, Reinhard Habeck and Peter Krasa, wrote a whole book about their theories called, Lights of the Pharaohs based on some odd looking reliefs. (Unfortunately it appears that it is no longer in print and can't be found on Amazon). The most significant of these are found at temple of Hathor at Dendera, which is about ten miles north of the ruins at Luxor. The relief shows what appears to be a huge bulb (over six feet long when compared with the associated human figures) mounted sideways. Something that vaguely resembles a squiggly filament runs through the bulb. At the base of the supposed bulb is what might be interpreted as a cord that connects that "light" to a box, which is apparently the source of the power.
Various experimenters have built what they consider to be replicas of what the relief shows and have actually gotten them to work as electric lights. But is there any evidence beyond this artwork, which could be interpreted in several different ways, that what was being depicted was actually a giant light bulb?
Habeck and Krasa argue that one of the reasons that no soot from candles or oil lamps are found in Egyptian tombs, even though it must have taken many hours of work in the dark rooms to create the decorations there, is that the Egyptians used electric lights to illuminate these areas (a competing theory is that they used sunlight reflected into the tomb by a system of mirrors).
However, if you have electric lights, as point out, you need a power source. Nobody digging in Egypt has ever found anything resembling an electric generator. No artwork shows the details of such a generator and no writing supports information about using or building any kind of generator, either. So we are left with the concept of batteries.
As you mention many of those supporting that idea of ancient lights in Egypt point to existence of the so-called "Baghdad Batteries." There is much conflicting opinion on whether these objects found in Iraq actually are batteries or simply jars. People have built reconstructions of them and actually gotten them to produce low voltages. Most of the people that conjecture that the "Baghdad Batteries" were actually used to create electricity, however, think that they were used in the process of galvanizing metals an activity which only requires a very low voltage. One of these batteries by themselves doesn't nearly produce enough electricity to power a six foot long lamp (in fact they don't really produce enough electricity to power a standard flashlight bulb).
Yes, you could make bigger batteries, or hook a bunch together to get more power, but that causes other problems. Frank Dörnenburg, who did some experimentation with such a battery, estimated you might need around 40 of these batteries (with a weight of nearly 200 pounds) to produce enough wattage to run a flashlight bulb.
Also after about 8 hours these primitive batteries will run out of power and have to be replaced. This also causes additional problems. In this simple battery design like this iron is a required component. Iron, however, was extremely rare in Egypt. It would need to be imported. There is no indication in any of the ancient Egyptian records of large amounts of iron being transported into the country to make hundreds of batteries. Nor has anybody found the remains of the hundreds of thousands of old batteries that would have accumulated from a single tomb project.
The truth is that Egyptians really didn't need the headache of making all these batteries to produce a little light. They had a simple lamp (a wick floating in olive oil) that was easy to build. Why don't we see soot in the tombs? Well, first of all olive oil burned in the lamps produces very little soot. Secondly, the tombs are not actually soot free. In many tombs soot on the ceiling can be seen. If not from the Egyptians' lamps, then from the candles and torches of the many people who visited the tombs during the centuries before the electric light became common in the modern world.
So what do the reliefs at Dendera actually show? Most archeologists think they are a lotus flower, spawning a snake inside, which represents certain aspects of Egyptian mythology. Their argument is supported by a close look the object inside the bulb that Habeck and Krasa claim is a filament. It has eyes and a mouth. Something a snake has, but a filament doesn't.
What's more while no Egyptian writings have been found that support the idea of giant light bulbs, batteries or generators, we do have records from the Valley of the Kings that show how many wicks and how much oil were issued to workers for their lamps during construction.
So, as many people argue that the ancient Egypt used the electric light, the proof is just not there.
---
Carbon Cycle - How do plants turn carbon dioxide into oxygen? - John
The change plants do of carbon dioxide into the oxygen in the air is part of the "carbon cycle." Carbon dioxide, which makes up a little more than 3% of air, is composed of two parts carbon and one part oxygen. That means a single molecule of it has one carbon atom attached to two oxygen atoms.
A plant takes the carbon dioxide molecule and splits it apart using energy from the sun. It keeps the carbon atom, which it wants, and kicks some of the oxygen out into the atmosphere. The carbon gets combined with hydrogen (the plant gets its hydrogen from splitting up a molecule of water - a hydrogen atom and two oxygen atoms) The carbon, the hydrogen and some of the oxygen together make sugar (twelve hydrogen atoms, six oxygen atoms and six carbon atoms to be exact). Sugar is, of course food and a major ingredient in carbohydrates.
Animals and humans, of course, do the opposite of plants. They breathe in oxygen, eat carbohydrates, and then combine them to make carbon dioxide. This action of combining these releases the energy (which the plants originally took from the sun) . We use this energy to walk, play checkers, ride bikes, write essays on our computers, etc.
They call it the carbon cycle because plants do one half of the operation by taking carbon dioxide out of the air and releasing the oxygen, which is really their waste product. Animals complete the cycle by taking oxygen back out of the air, eating the plants, getting energy by combining these and breathing out carbon dioxide (which is our waste product). The carbon dioxide goes into the atmosphere so that other plants can using it again in a circle of activity. The whole thing keeps going as long as the plants have sunlight to split the carbon dioxide apart again.
So how exactly does a plant do that? The process is called photosynthesis. Light, of course, is a form of electromagnetic energy. Plants use a material called chlorophyll which takes the light energy and creates a series of chemical reactions that spit the carbon dioxide and water apart and recombine them to make sugar and free oxygen.
To capture light energy most plants use little solar panels we call leaves. This is where most of the energy is captured and chemical reactions take place.
Chlorophyll is also what makes a plant green. It tends to absorb red and blue light waves, but reflects the green. Since what we see are the colors not absorbed, but reflexed, plants appear mostly green to our eyes. The truth is that scientists aren't really sure why plants aren't black. It seems like this would be the most efficient color for a plant as it could absorb all the wavelengths and get the most energy out of the smallest area. However, as you can observe by walking through a meadow, most plants are green, not black, and were not really sure why.
One of the coolest things about the carbon cycle is that plants are really making themselves out of thin air. Yes they do get water and some trace materials from their roots, but the carbon, which makes up so much of their structure, just comes from the carbon dioxide in the air
The reverse is true when we exercise and lose weight. Our carbs disappears into the thin air. The food you eat (carbon) is combined with oxygen and breathed out as carbon dioxide.
I should probably also mention that photosynthesis isn't limited to just plants. Algae, and cyanobacteria can do it too. What's more it isn't the only game in town. Chemotrophs are organisms that obtain energy by oxidative chemical reactions and don't need sunlight. An example of these are the bacteria that live in the deep ocean near hydrothermal vents. It is too dark down there for them to use photosynthesis, so they get energy by oxidizing iron is dissolved in the sea water near the hot vents.
---
Cheating Einstein - If you had a pair of scissors sufficiently large enough, can the tips of the scissors exceed the speed of light? - Nanshir
Ever since Einstein published his theories on relativity and stated that nothing can travel faster than the speed of light, people have delighted in trying to find a way around this rule. For example, if you took a flashlight and pointed the beam into space (then waited for the tip of the beam to get, let's say a light year away) then suddenly swung the beam across the sky to the opposite direction you might try to argue that the tip of the beam must have traveled faster than the speed of light.
However, the "tip of the beam" is more of an intellectual concept than an actual thing. The photons that make up the beam keep streaming out in the straight line you had them pointed in even after you moved the flashlight and only photos emerging from your flashlight after you changed its direction would go toward a different point in the sky. You can picture what is happening with a stream of water from a garden hose. Point it in one direction, then swing it in suddenly across your yard. The tip of the stream of water doesn't move immediately, but lags behind the motion the hose's nozzle.
Another example of trying to get around the speed of light is to build a giant rod between two planets one light year apart. You might try to get around the limit on information traveling no faster than the speed of light by pushing the rod on one end as a signal and expecting the person receiving the signal on the other end to see the rod on his end to move immediately. If it did, he would get your signal faster than the speed of light.
The problem here is that though we expect the rod to be perfectly rigid, it really isn't, especially when dealing with an object that would be a light year in length. Pushing on rod on one end would compress it slightly and this compression would move along the rod at no faster than the speed of light, so your signal would not be received on the other end for at least a year.
The scissors example has similar problems. Like the rod the blades of your scissors are not going to be perfectly rigid. As you close them the tips will bend and lag behind the portions of the blades closer to the scissors fulcrum. If you do manage to get the tips of the scissors to approach the speed of light you will find that their mass will grow and grow and you will require more and more energy to try and close the blades. In fact as the tips get near the speed of light their mass will near infinity and the energy you need to close the blades will also approach infinity. Since you don't have limitless energy, you will never be able to close the blades fast enough to get the tips to the speed of light (In addition are also some problems with transmitting the energy to the tips since we already established the blades aren't perfectly rigid anyway).
This is usually the problem with trying to get anything going at the speed of light. As you accelerate the object it becomes more and more massive and eventually there isn't enough energy in the universe to accelerate it all the way to the speed of light. The only things that can travel at the speed of light are photons, which have no rest mass.
Now maybe you might be able to get around this rule by building a spaceship the can "warp" space and compress it in front of your ship and stretch it behind your ship (this is where we get the Star Trek term "Warp Drive" from). In this scheme your ship wouldn't actually be exceeding the speed of light, but would simply be carried ago by a bubble of space. It's a very interesting way to cheat Einstein, but nobody knows if you could ever make such a propulsion method actually work.
---
Big Steam? - In the movie "Wild Wild West" starring Will Smith there was a giant Steam powered spider machine: I already know it was just a special effect but I would still like to know this... Aside from steam-powered ships and locomotives, what is the largest steam-powered vehicle ever made? - David R
Wow! This is a tough question. The best I might be able to do is to suggest a couple of big steam machines that move and see if any of our readers can think of anything bigger.
As you question implied steamships and locomotives were some of the most powerful and heavy objects ever moved by steam. Other devices were relatively light. One of the reasons for this is that steam engines, especially those built in the 19th century, didn't generate a lot of horsepower for the weight of the engine compared to later internal combustion engines. This was fine if what you needed was a stationary source of power. You could just build your steam engine as large as you needed, since it wasn't going anywhere.
The perfect example of a large stationary steam engine was the Corliss Steam Engine built for the Centennial Exposition in Philadelphia in 1876. It generated 1,400HP and powered virtually all of the exhibits. Though there would be more powerful engines ( The Ellenroad Ring Mill Engine built in 1917 could produce almost 3000HP) the Centennial engine was well-known and became an icon of the era of steam. It wasn't small, however, and stood 45 feet tall with a 30 foot diameter flywheel. Hardly portable.
A big heavy engine needs to be mounted on something big to be movable which is why powerful steam engines worked so well with ships. One of the biggest of these was the SS United States, an ocean liner launched in 1952 that could develop 240,000HP. It still holds the record for the fastest commercial crossing of the Atlantic.
Rail was also a natural place to use steam because the steel tracks and well-built roadbeds would support a lot of weight for a big locomotive. The largest of these was probably the 1941 Union Pacific Railroad's 4000-class nicknamed "Big Boy" which could generate at least 6,000HP. However, all that weight came with a price. This monster weighted over a million pounds when you included the tender, so it needed the firm footing provided by a track bed to avoid sinking into the ground.
So back to your question: What the biggest steam machine that moves that isn't a loco or a ship? Certainly steam-traction engines might be a possibility. These were steam powered tractors that were popular before gas and diesel tractors became available. Even heavier were steam-rollers which were basically steam traction engines built with big fat wheels used to flatten roadbeds.
Perhaps for a really big and heavy steam machine we need to go back to your inspiration: The Wild, Wild West film from 1999. I'm not thinking about the huge mechanical spider shown in the climax, but the steam powered tank from earlier in the movie.
There were indeed a few attempts to build steam powered tanks in the early 20th century. In 1916 or 1917 a company named Holt built a "Three Wheeled Steam Tank" that was tested at the Aberdeen Proving Ground in Maryland. The monster weighed about 17 tons, so it was probably heavier than most traction engines, but only developed about 150HP, so it was pretty under powered. According to reports it easily became stuck in the mud during testing.
A bigger tank-like device was a contraption built by the Army Corps of Engineers in conjunction with Stanley Steamer in 1918. This guy weighed in at 50 tons (around twice as heavy as the other tanks of the era) and had two engines totaling 1,000HP to drive it forward at a maximum speed of 6 mph. This machine was armed with a flamethrower on a turret (which makes me think of the tank from the James Bond film "Dr. No") and four .30 caliber machine guns. Apparently a prototype, christened "America," was shipped to France at the end of World War I, but arrived too late to see any action.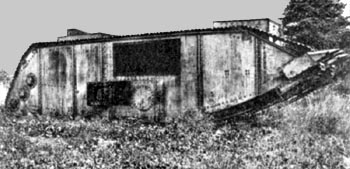 Apparently steam was chosen as the source of power because internal combustion engines of the time couldn't generate enough force to really get something this heavy moving (The 26 ton British tanks of the time used a 105HP engine that could only move them forward at about 3 ˝ mph). Steam perhaps isn't the best source of energy for this type of project, however. Working next to a hot boiler in a windowless tank must be awful and there is always the chance of a steam explosion it the machine is pierced by even a small round.
So can anybody think of a bigger steam-powered machine that would qualify as a vehicle? If so, drop us a line and we'll feature a column on it.
---
Things Falling from the Sky: I've read a lot about sky falls... where things like fish fall from the sky. In Honduras, over 10,000 fish fall from the sky at the beginning of rain season. It is only in one village and my friend from Honduras won't believe me. I tell her that she didn't live in that village and that it DOES happen in another village. Am I right?- Cocobean
Skyfalls (Nothing to do with the most recent 007 thriller, I'm afraid) are some of the most puzzling of anomalous phenomena. The list of things that fall from the sky that don't really belong there are endless: fish, frogs, snakes, alligators, salamanders, turtles, lizards, worms, grain, straw, leaves, seeds, slime, stones, hazelnuts along with other items too numerous for me to list here. Even things might belong in the sky often come down in very odd ways: blue ice, and blood red rain are a couple of examples.
Now some of these events, especially since the invention of the airplane, can be explained easily. Blue ice may well be the result of a leak from an airliner's potty tank. However records of many of these events go back way before the invention of the airplane (for example a large fish fall in India in 1830) and even today some of the falls are of such size and duration as to make it unlikely the source was an aircraft.
The general wisdom is that a storm or waterspout pick up these objects and deposit them in another location. The problem with this theory is that most falls from the sky are highly selective in their type. For example, if a storm scooped up the contents o f a pond and dropped it a few miles away you might expect that you would get a mixture of fish, frogs and water plants. You also might expect that the fall would last a short time, or be scattered randomly over a large area. That is not always the case however. Let's look at a few examples:
In September of 1922 thousand of young toads (no fish - no old toads) fell - for two days - on the town of Chalon-sur-Saone in France. In 1947 near the town of Marksville, Louisiana, fish fell for an hour onto a strip of land just 75 feet wide and one-thousand feet long.
You might also expect that if a storm were the cause, then the objects that fell might be from the local area. In the case of the Marksville fish, however, a biologist determined they were of a species that didn't live in the local waters. And a scientist observing a fall on the South Pacific island of Guam in 1936 noted that some of the fish that fell there appeared to be tench (Tinca tinca) which are thought to live only in the fresh waters of Europe.
Perhaps one of the strangest things to fall from the sky is money. In May of 1982 near the Churchyard of St. Elisabeth in Redding, England, a local candy store owner informed the Rev. Graham Marshall that children had been coming in a buying candy in large amounts. He was concerned that perhaps they'd raided the church poor box. No money was missing from there, so the Reverend spoke to the children involved. Apparently they heard the money fall and tinkle on the sidewalk in the churchyard. Marshall decided to conduct his own investigation and came to the conclusion that the coins must be falling from a great height as some were embed edgewise in the ground, an effect he couldn't reproduce by just tossing coins in the air or even throwing them down with some force. In this case there were no storms in the area or tall buildings nearby.
Because storms don't seem to explain many of the falls, people have come up with some wild theories about might cause this phenomenon. In the 1950's UFO enthusiast Morris K. Jessup suggested such things like fish falls were the result of flying saucers dumping their hydroponic tanks. Others have suggested that these events are a product of teleportation - the instantaneous transportation of objects from one place to another. Others have suggested channels that somehow open to another parallel universe are responsible.
The truth is as much as the storm theory seems inadequate to explain many sky fall events, most of the alternative theories are wanting also. The simple truth is that nobody had come up with a mechanism that explains all cases of objects falling from the sky. More likely it isn't a single mechanism anyway, but several different ones.
As to your friend's skepticism about such falls, they clearly do occur and thousands of incidents have been reported throughout the years. As for exactly why they occur, well on that subject the jury is still out.
---
Why Can't We Drink Seawater? - Why is it not ok to drink sea water, but ok to put sea salt on our food? - John
Salt is one of the things your body really needs to function. Without it you wouldn't be unable to maintain the proper fluid balance in your blood cells. It's also essential to transmit information through your nerves and muscles. Finally, it is also used in the absorption of certain nutrients from your small intestines.
As much as we need a little salt (like the small amounts that you sprinkle on your hamburger), too much of it is a really big problem. It can lead to seizures, unconsciousness, and brain damage. And as your kidneys get over worked by trying to remove the excess salt from your system they can overload and shutdown leading to sure death.
The problem is that the amount of salt in your blood stream must be kept very close to 0.9%. The amount in seawater, however, is around 3.5%. If you try and drink seawater the amount of salt in your blood rises closer to that of the seawater and your body desperately tries to get rid of it. Water flows out of your cells to dilute the salt in your blood, making the cells dehydrate. Your kidneys work to remove the salt from your system, but your kidneys can only concentrate salt into your urine at a level less than the 3.5% in the seawater. Therefore it takes more water to get the salt out of your system, than you originally got from drinking the brine. Instead of quenching your thirst the seawater accelerates your dehydration.
Now drinking seawater in small amounts (say accidently gulping some while swimming in the ocean) isn't really dangerous as long as you had enough fresh water to avoid dehydration. If you are stranded at sea in a lifeboat, however, and you can't get any fresh water, drinking seawater to get rid of your thirst will kill you after a while.
There are some reports that sailors short on fresh water have been successful in stretching their supplies by mixing it with saltwater. Adventurer Thor Heyerdahl reported drinking seawater in a 40/60% ratio without a problem during his famous Kon-Tiki expedition across the Pacific Ocean from South America to the Polynesian islands in 1947. However, unless you are extremely desperate, such a course of action seems ill-advised.
Ironically our blood seems to contain the same proportions of minerals and salts as there is in seawater, just at a lower level. This has led some scientists to speculate that blood developed in our distant, distant ancestors from a more diluted form of seawater that existed in prehistoric times. In fact, seawater, diluted so that the salt level is the same as that found in blood, has been successfully used as a replacement for blood plasma.
---
Teleportation - Since scientists are able to teleport light particles, could we use this teleportation method to travel in space rather than a propulsion based rockets? - Christal
When we talk about teleportation what most people think about is Star Trek. In this 1960's SciFi classic (as well as in the new movie reboots) Captain Kirk was able to hop onto a little pad and Scotty would beam him down from the Enterprise to the planet below in a couple of seconds. This allowed the Captain to avoid the trouble of climbing into a small "shuttlecraft" and to take an hour or so ride down to reach the surface. (More importantly it saved the show's producers money and kept the pace of the story fast).
This scenario is probably the one most people think about when they hear that scientists are teleporting photons (bits of energy) around: A photon gets plopped onto a pad on one side of the lab, a switch is thrown and the same photon suddenly appears on the other side of the lab.
That isn't quite what is happening, however. What the scientists are teleporting are the physical properties of the photon, not the photon itself. They exploit quantum mechanics (specifically something called "entanglement") to "read" the photon and transmit the properties to another photon on the other side of the lab and give it the same state as the original. Since you can't tell the replica apart from the original (whose state was destroyed in the process) for all practical purposes the photon has been "teleported."
Being able to do this is a very powerful technique that can be used in quantum computing and we will probably eventually get ultrafast computers out of it. However, it isn't clear that the same process could be used for transporting solid objects. Scientists have been able to teleport a single atom, but a human consists of about a trillion, trillion atoms, which makes the problem of teleporting them about a trillion, trillion times more difficult. Some scientists think we might be able to pull off teleporting something as complicated as a virus by the end of the century, but even that may just be wishful thinking.
And if we were actually able to teleport a human, it would raise some interesting ethical questions. If a teleport machine works not by moving the actual atoms that make up a person, but just recreating the person's structure with new atoms, have we transported the person or just made a duplicate? (The duplicate would think it was the original because it would have all the same thoughts and memories.) Also, if the original person is destroyed in the process, have we just murdered him, despite creating a duplicate in another location?
The idea that you could switch out all the atoms in a person and still have the same person isn't just a hypothetical situation either. Studies at the Oak Ridge Atomic Research Center found that 98% of the atoms in our body are replaced with new ones each year. So in essence we are all undergoing a slow teleportation and getting new bodies (though the structure still remains the same, so we still age - sorry). This raises an interesting question however. Are we actually the same people we were a year ago, or just duplicates with all the same memories?
There are also some theological concerns with teleportation too. Some people believe that humans have a "spirit." If a person we teleported, would that "spirit" automatically jump to the duplicate person?
Finally, suppose that the original person wasn't destroyed and you wound up with two of them? Who is the original if both of them are exactly the same? Which one gets to go home to their spouse and kids?
For some interesting SciFi fiction on this dilemma check out Think Like a Dinosaur a novelette written by James Patrick Kelly and later turned into an episode on the seventh season of The Outer Limits (2000). It available to watch on Hulu for free.
---
Can Extraterrestrial Astronomers See Us? - If an alien being with a telescope from an exoplanet looks at our solar system, would they detect our planets using the methods we use or would they see a "fuzzy" nebula looking orb due to the Oort cloud? -Rowell
Let's first do a quick review about how scientists can detect planets around distant stars. Just pointing a powerful telescope at a star system and trying to pick out the planets going around it generally doesn't work. The star itself is too bright and outshines any planets it has (perhaps by a factor of a million to one). Also at the interstellar distances we are talking unless the planets are very large and hot they are generally too small for even the most power telescopes to find.
The most productive way of discovering new stars is by indirect methods. One of these is to measure the light coming from the parent star and watch for tiny shifts in the wave lengths. As planets move around a star their gravity can cause it to "wobble" a bit and this causes the wavelength of its light to shift because of the Doppler Effect. By observing a star long enough and recording the size, timing and length of the shifts scientists can estimate the number planets and how far they are from the star, although it is difficult to tell exactly how big those planets are.
The second most productive method to find exoplanets is to watch the slight dimming of the star as the planets pass between it and telescopes on Earth. With this method scientists can detect the number of planets, how far away they are from their star and even estimate their size. Occasionally they can even use a spectroscope to detect what their atmosphere might be like. The only problem with this method is that it only works on star systems which are oriented in such a way that at least one of the planets transits its star as seen from Earth.
There are other methods to detect exoplanets, but let's talk about how an Oort cloud would affect these two approaches.
Well, let's first talk about what the Oort cloud is. In the 1950's Jan Hendrik Oort speculated that out beyond the orbit of Neptune there was a large number of comets that might extend as far out from the sun as 3 light years. Subsequent observations proved this true and the cloud was named for him. However it isn't a cloud in the normal sense we would think of when we look at clouds in the sky. The density is very low. The only parts of it we can detect are the few comets that occasionally leave the cloud and make a passage into the inner solar system. The rest of the cloud is too thin and dim for us to detect with our current instruments.
Because it is so thin it doesn't interfere with our ability to look at the stars beyond or use the above methods to find planets around those stars. By the same token astronomers on distance stars would not have any problem with using these same methods to detect planets in our solar system. The Oort cloud is too thin to block their observations. It is also very likely that the solar systems we have found so far have their own versions of an Oort cloud and these don't seem to hinder our observations.
---
Germ or Virus? - Is there a difference between a germ and a virus? - John
If we use the dictionary the pertinent definition for the word "germ" is "microorganism" (Especially a microorganism that causes illness). A microorganism is a microscopic, living organism often composed of one or just a few cells. Bacteria like Vibrio cholera, which causes Cholera would fall into this category. Also a fungus like Trichophyton rubrum, which causes athletes foot would also quality, as would a protozoa like the Entamoeba histolytica amoeba which causes a type of dysentery.
Cleary a virus is not exactly the same thing as germ which includes all these other types of organisms. However, you could argue that a virus, like a bacteria, or a protozoa is a type of germ.
So should a virus be considered a germ? There are certainly microscopic and many varieties of them can make us sick. But does a virus qualify as a microscopic living organism? Well, the problem is that not all scientists can agree that viruses are actually alive. Generally for something to be living in scientific terms it needs to have seven different properties. One of the most important of these properties is the ability to reproduce. All the microorganisms we named above, bacteria, fungus, protozoa (and a few we didn't list) can reproduce themselves. A virus can certainly reproduce too, but only by invading the body of a living host cell and stealing the use of its reproduction machinery.
For this reason the scientific community has gone back and forth on this issue whether viruses are alive for many years. Some scientists make the case for viruses being living things, others argue that they are not.
In the 19th century when viruses where first identified by scientists they figured that they must be the most diminutive members of the family of life. They clearly seemed to act like bacteria, but they were just much, much smaller.
It wasn't until 1935 that a researcher named Wendell M. Stanley was able to crystallize the tobacco mosaic virus and take a close look at it. Stanley realized that though the virus contained complex biochemicals it couldn't carry out the normal metabolic functions that most living organisms did. Since metabolism (which is the chemical reactions necessary to sustain life) is one of the seven qualities of a living organism, Stanley made the case the viruses were simply inert chemicals.
Not all scientists are comfortable with this however, and argue that viruses really span the region between the living and the non-living. Alone they are just packages of inert chemicals. When they enter a cell, however, suddenly they take on many of the characteristics of a living organism. A few researchers like to compare virus to vampires: like the legendary nosferatu viruses are dead, unless they use living cells and drain them of their energy.
So is a virus a germ? The truth is you can make the case that it is or it not depending on your whether you think viruses are alive.
---
Hole Through the Earth - If it were possible to shoot an unstoppable, elevator-sized cannonball vertically into the ground (let's say at the North Pole), it would speed all way out from South Pole. Good. So what if a man decides to make a quick trip to South Pole(from the North Pole) by way of jumping into the hole created, would he defy gravity by surfacing from South Pole's ice (probably continuing into space)? - Cheta Anuonye
Well let's start by saying that this scenario, having a tunnel go from the North Pole to the South Pole is a great thought experiment, but wouldn't really work in reality. Since the core of Earth is molten and semi- molten rock the tunnel that you made below a certain depth would quickly close up as the rock flowed back into position.
But let's say that this isn't a problem and you can actually build a shaft for a distance of 7926 miles from pole to pole, then you jump down into it. What would happen?
Well, of course you would start by falling. But let's back up and figure out why that occurs. The answer is that gravity pulls you downwards. But where does the gravity come from?
Gravity is a force in nature that pulls all matter together. It is the weakest of the basic forces in nature, but also the most tenacious. (If you doubt this, just think about what happens when you use a small magnet to pick up a paperclip. The magnet is tiny when compared to the Earth, yet the magnetic force it has overpowers the entire gravity force of the earth to pull the paperclip away from it. However, the magnetic force does not have the range of gravity and the magnet can only pick up the paperclip if they are very close together).
While you are reading this gravity is pulling your body toward the computer (or cell phone, or tablet depending on what you are using) while your body pulls the computer toward it. However with small objects like this the force of gravity is so low that you can't feel it. It takes a really big object (like planet earth) to create a significant gravity force. The amount of the force is directly the result the mass of the object, so since the moon is only 1/6 the mass of Earth, the gravity of the moon is only 1/6 what it is here on Earth (If you weigh 120 pounds here on Earth you would weight only 20 pounds on the moon).
So the mass of the Earth creates gravity. Let's say that you jump into your tunnel at the North Pole. You are pulled down toward the center of the Earth. As you got closer and closer to the center, however, more and more of the Earth's mass would be above you and less and less below you. The mass above you would start to pull you up, while the mass below continues to pull you down. When you found yourself at the exact center of the planet, with all the mass of it around you equally in all directions, the gravity would cancel out and you would be weightless.
However, by the time you reached the center of the Earth you would have so much speed you would go shooting right though the zero gravity section. As you continued on more and more of the Earth's mass would be behind you, slowing your speed down. Eventually you would stop before you reached the surface and reverse direction.
In fact you would be doomed to spend the rest of your life oscillating back and forth in the tunnel, losing a little speed to air friction as you made each trip until you eventually got stuck at the center of the planet in the zero gravity area.
---
Surviving a Jump - Can a person survive a dive into water from five stories up?
Well, from personal experience on my summer vacation, I can tell you that you can dive into a river from 2 and ˝ stories up (25 feet) and suffer no ill effects. In fact, Olympic style diving is typically done from a 33 foot platform (3 stories) with no problems. Finally, cliff divers in Acapulco, Mexico jump from 136 feet (13.5 stories), head first (using their hands to break the water), into the sea on a daily basis. So a five story (50 foot) dive into water is certainly survivable.
But how about heights of 15 stories and above? The higher you get the more critical the position you enter the water becomes. A study by Dr. Richard Snyder of people who jumped or fell off the Golden Gate Bridge found you had the best chance of living through it if you hit the water vertically, feet first. The roadway of the Golden Gate Bridge is around 250 feet above the water, about 25 stories. It has become a magnet for people who want to do themselves in by jumping off the bridge. Some die from the impact, others drown in the bay, but a few people do live to tell the tale. These people went in feet first in a vertical position.
One who didn't make it was a stunt diver called Kid Courage. He went off the bridge in 1980, but landed on his back and suffered fatal internal injuries. He was dead when the pulled him from the water.
Some experts put the outside limit on survival of a fall into water at around 260 feet. By then a human body has usually reached a speed of greater than 80 miles per hour and hitting even a liquid at that speed is a huge shock.
Even so there are rare reports of people who have fallen into water from great heights and survived. In June 1963 Marine pilot Cliff Judkins was forced to bail out of his F-8 Crusader at 15,000 feet and his parachute failed to open. It is likely he hit the ocean at nearly the human terminal velocity of 120mph, but survived despite huge odds against it.
---
Hot and Cold - Is cold the absence of heat? Or is heat the absence cold? - John
When you first look at this question it sounds a little bit like a riddle: Which came first the chicken or the egg? We need to first understand what heat and cold is before we can get to the bottom of this riddle however.
From a physics point of view heat is simply the exchange of thermal energy from one object to another. Now you might ask "What is thermal energy?" Thermal energy at the smallest scale is the movement (mostly vibration) of the particles that make up matter: Atoms and molecules and the things they are composed of - protons, electrons and neutrons. The more movement these particles have, the higher the temperature of the object they are in will be. At a certain point if the particles are bumping around fast enough the object will actually change form.
Let's look at water. When the particles aren't moving much water can take a solid form: ice. As the thermal energy increases the water molecules eventually bounce around so much that they reach a point where they break away from the solid form and flow freely by becoming liquid water. If the temperature of the water continues to rise the molecules will eventually be jumping around so much that they can't even stay in liquid from and become a gas: steam.
Heat is the transfer of that thermal energy from object to object. For example, when you hold an ice cube in your hand you are heating it because the thermal energy in your hand is higher than the thermal energy in the cube and the energy flows from one to the other. Thermal energy always seeks an equilibrium when it can find it. Just like water will flow from a full container to an empty container if there is a connection between the two until the levels in both are equal. The result is the ice cube starts to melt as its thermal energy rises and your hand starts to feel cold as the thermal energy in it drops.
So let's go back to the original question: " Is cold the absence of heat? Or is heat the absence cold?" Well, since heat is the transfer of thermal energy and cold can be defined as an area of low thermal energy I think you can make an argument for the first case. Cold is an area of low thermal energy which hasn't gotten a transfer of energy (heat - which is absent in this scenario) from another location with a higher amount of thermal energy.
---
Wormhole Wonders - I've always been curious about the possibility of wormholes in space. If a wormhole existed, how would it affect space travel? - Anonymous.
Let's start by defining what a wormhole is for those people not familiar with the term. Way back in 1957 theoretical physicist John Archibald Wheeler coined the term to describe a theoretical shortcut between two distant parts of the universe. If you think of the universe as a flat sheet of paper it might be possible to fold the paper over on itself so the rear surfaces touch. A hole poked through the sheet at that point would create a way to travel between two distant areas quickly.
While the universe is not flat and two dimensional, like the sheet of paper, this example does give us a way to visualize how it would work. The existence of a type of wormhole that could do this called an Einstein-Rosen bridge was first suggested by Albert Einstein and his colleague Nathan Rosen in 1935. Wheeler later showed that this particular type of wormhole would not be stable long enough before it collapsed for anything, even a photon, to get through it, however.
In 1988 physicist Kip Thorne, however, proposed that you could build a wormhole that would be stable using exotic matter that would have an anti-gravitational effect that would force the wormhole to remain open (Such a wormhole that stays open so things can go through it is known as a traversable wormhole).
Traversable wormholes have become a favorite of science-fiction writers who need to find a mechanism to move spaceships from one location to another across the vast distances of interstellar space in less than a human lifetime. In fact, it was Carl Sagan, the astronomer who wrote the bestseller Contact (later made into a movie) who need such a plot device and pushed Thorne into devising his scheme using exotic matter. A naturally occurring wormhole was also made a part of the Star Trek series Deep Space Nine which made it possible for the characters to travel to a distance part of the galaxy in the blink of an eye.
In theory a wormhole could be used not just to link to parts of the same universe however, but also two completely different universes.
Perhaps the strangest thing possible to do with a wormhole is to turn it into a time machine. According to Einstein's theory of relativity anything that is accelerated is subject to time dilation. In other words time slows down for it. While the effect of this is too tiny for us to notice when we take a transcontinental flight, if you were able to fly a spaceship to another star and back again at near the speed of light, you would find that something like a year had passed for you on board the spaceship, but ten years had passed for those who stayed home on planet Earth.
If you could create a wormhole and leave one end on Earth and take the other with you on that spaceship the end left at home would age more than the one that you took with you. This difference would mean that anything that entered that mouth of the wormhole on the older end would emerge at the young end in the past (though it would be impossible to go back further in time than when the wormhole had been created).
If we could build wormholes could we use them for interstellar travel like in the movies? Yes. We could even use them to travel into the past. Here's the bad news, however. Nobody has ever observed a naturally occurring wormhole and building them seems well beyond our engineering capability for the foreseeable future. Indeed it might not be possible at all. It isn't even known if the type of exotic matter required for Thorne's wormhole even exists.
Don't despair, however. When Einstein first came up with the concept of a black hole it was thought to be just a theoretical concept not actually occurring in nature. Now we have pretty good evidence that black holes actually exist and may explain many of the things we observe in the universe.
Even if we haven't seen any wormholes, it hasn't stopped scientists from imagining what a wormhole would look-like if we could build one. They suggest it might look like a mirrored sphere, except instead of reflecting our world it would actually be showing the location at the other side of the hole. Here's a link to some videos that researchers at Tübingen University created to show what a wormhole would look like that connected their campus to a beach in France. Try it out!
http://www.spacetimetravel.org/wurmlochflug/wurmlochflug.html
---
The Majestic 12- I have often read about the Roswell Incident. Supposedly a strange UFO crashed on a ranch outside Roswell in 1947… I've also heard that none of this seemed to come to light until the 60's or 70's due to some strange documents that turned up, and everyone had bought the government's explanation up till that point. - Michael
The documents that you are referring to are supposed to be related to secret group of scientists, military leaders, and government officials that were authorized to investigate UFOs. Supposedly this group, the "Majestic 12" (or MJ-12 for short), was established by order of then President Harry S. Truman on September 24, 1947.
The papers surfaced in 1984 after having been sent to TV producer and UFO enthusiast Jaime Shandera in a brown paper envelope encoded on a roll of 35mm film. One of the items on the film was an eight page, official- looking document that gave a briefing to President-elect Dwight Eisenhower about the recovery of the remains of two crashed spaceships, with alien bodies, by government agents during the 1940s.
The documents also supposedly included a memo from President Harry Truman that gave MJ-12 the power to investigate the Roswell situation. The members of this secret group were allegedly Adm. Roscoe H. Hillenkoeter, Dr. Vannevar Bush, Secretary James Forrestal, Gen. Nathan F. Twining, Gen. Hoyt S. Vanderberg, Dr. Detlev Bronk, Dr. Jerome Hunsaker, Mr. Sidney W. Souers, Mr. Gordon Gray, Dr. Donald Menzel, Gen. Robert M. Montegue, and Dr. Lloyd V. Berkner. All of these men had died by the time the documents came out in '84, so none of them were around to comment on the authenticity of the material.
Shandera was suspicious that the documents might not be real and sat on them. If they were real it would be a tremendous news scoop and would prove just what the UFO conspiracy people had been saying for years: That the U.S. government had been hiding the truth about extra-terrestrials on earth. If the papers turned out to be fakes, however, he would be a laughing stock. Without good proof one way or the other, Shandera decided not to go public. Several years later a copy of the film was given to British UFO researcher Timothy Good who was working on a book called Above Top Secret (1987). Good was a little less cautious and decided go public with it. This lead to an article about the documents in the newspaper The Observer in May of 1987. After that Shandera decided also to admit that he had copies of the papers, too.
In 1988 UFO skeptic Philip Klass urged the FBI to look in to the matter. They decided to investigate under the premise that if the documents were indeed real, U.S. law had been broken in their release. The FBI, however, quickly came to the conclusion that the material was "completely bogus."
The documents split the UFO research community into two groups. Those arguing against the authenticity of the documents pointed out various problems with them: wrong formats, wrong type face, shaky providence , etc. (For example several documents from the 40's seemed to have been typed on a IBM 72, which dates from 1961).
Those who believe that the MJ-12 documents were real also found some justification for their thinking: For example, a memo entitled "NSC/MJ-12 Special Studies Project" from July 14, 1954 that apparently refers to the "Majestic 12" group was found in the National Archives. While this document might have been faked it, it would have been hard to insert it into the official governmental records.
Most people involved in researching UFO seemed to have come to the conclusion that the documents are indeed false. However, a minority still argue that they are real. Among those people who think they are false, however, there are those that think that they were part of a deliberate "disinformation" campaign by the government designed to discredit the idea of UFO's and extra-terrestrials. They support this claim by observing that the hoaxer apparently had access to a number of obscure, but clearly real government documents. If M-12 was disinformation from the government, just what, they ask, was the Uncle Sam trying to hide?
---
Is a Unified Field Theory possible within our lifetime or will quantum weirdness muddle the whole thing up? - Taziniquejz
First let's start by defining what a "Unified Field Theory" is for those readers who might not be familiar with the term. There are four known fundamental forces in the universe: Gravity, Electromagnetism, the Strong Nuclear Force and the Weak Nuclear Force. The first two most people are familiar with from every day experiences, but the second two are very short range and only work at sub-at atomic distances so we don't see much of them in everyday life. (However if they didn't exist atoms would fly apart and the universe would be very different). In any case, since the 19th century physicists have been trying to build a single theory that integrates together the fields of all these forces. There was good reason to try this as they'd had some success in the past. For example, in the 1800's James Clerk Maxwell was able to take the electrical force and integrate it with magnetism to make electromagnetism.
Albert Einstein, after finishing his General Theory of Relativity (which explains how gravity works) spent pretty much the rest of his life trying to combine gravity with the rest of the forces, but without much success. One of his problems with his approach was that he attempted use classical physics to do it.
As your question suggests some people think quantum physics throws a monkey wrench into the process of creating a Unified Field Theory. Quantum physics is different than classical physics in the nothing is deterministic, only probabilistic (For example you cannot precisely determine were a sub-atomic particle like a photon will be, only were it probably will be). This tended to bother a lot of people, including Einstein who famously said, "God doesn't play dice with the Universe." Einstein, though he helped found quantum physics, was never really comfortable with it and hoped to find a deterministic/classical theory hidden beneath it.
Though there are still a few scientists that hope to find a Unified Field Theory in classical physics, most of them now think that it will actually come out of quantum physics. Much work has been done in this area and it looks like the electromagnetic force can be successfully combined with the weak force to make what's called the "electroweak interaction." In addition the strong force also fits well into the Standard Physics Model laid out in quantum physics.
The odd man out is gravity. The particles that make these forces work have been found for the rest of the forces (for example, in the case of electromagnetism the particle is the photon), but not for gravity. The suspected particle here has been given the provisional name "graviton" but currently our laboratory experiments are not sophisticated enough to detect such a particle, so it still remains theoretical construct.
If a theory of quantum gravity can be found (and proved to be corrrect) we should be well on our way to finally having something that looks like a Unified Field Theory. Scientists are working on several approaches to this. The most popular one is String Theory (which comes in a multitude of various versions). String theory says that all matter is made up of incredibly tiny strings of vibrating energy and the different vibrations produce different particles, like the photon and the electron.
Many scientists think that this may be the final theory of everything and find the math in it quite elegant. However, it is nearly impossible to actually test any version of string theory in a laboratory because the vast amounts of power required to crack open matter to look for the strings is not something with can generate and control today. This lack of a testable hypothesis, according to string theory critics, makes it more of a religion than a science.
Will we be able to resolve this problem in our lifetime? It's hard to say. Einstein thought that he might have a Unified Theory by the end of his life, but that was over half a century ago and we are still working on it. On the other hand sometimes you can go from theory to experimental results unexpectedly quickly. When John Stewart Bell came up with his theorem ("Bell's Theorem") in 1964 he didn't think it would be possible to actually test it with an actual experiment for decades, if ever. Yet, within five years the first lab tests were being run. So who knows? Perhaps there is clever, young physicist out there with an unconventional idea about how to test string theory. If so, a Unified Theory, verified by experiment, might be right around the corner.
---
Radioactive Kitchen - Is it true that granite countertops give off radiation? - John
Granite has become an increasingly popular surface for countertops in the last decade. It very hard and won't easily chip. It's heat resistant so you can take something right out of the oven and place it on the surface without worrying about damaging it. It also comes in a large variety of natural colors that won't fade with time.
As a natural stone however, some granite can have uranium and /or thorium in it. These elements are naturally radioactive and uranium also emits radon gas (which is also radioactive) as it decays.
Now we should note that we are all exposed to low levels of radiation every day from many sources like the dirt under our feet, ceramic tile, plant fertilizer and cosmic rays from outer space. Even the smoke detectors that guard our house from fire give off a tiny bit of radiation.
This "background radiation" is so low it isn't usually considered dangerous, however. For example, the risk of being killed in a fire is many times higher than the risk from the tiny amount of radiation given off by smoke detectors, so you wouldn't want to remove the smoke detectors from your house.
Most granite gives at least a little bit of radiation, though not enough to be considered dangerous. Occasionally, however, a piece of granite used in countertops has been found to give off radiation at much higher levels than just background. It is thought this is more likely with exotic types of granite from places like Brazil and Namibia. Even with this higher radiation, however, it would take many, many hours of direct contact material before the radiation coming from it would be considered a real health threat. Of more concern would be breathing any radon gas given off by the granite. The EPA recommends that all houses be checked for radon gas. Such a check would find not only radon gas from countertops, but also gas from other building materials and from radon seeping in from soil underground (which is a much more likely source of the problem).
A study by the Health Physics Society concluded that no action needs to be taken to remove granite countertops in existing homes, but if there is a concern a test for radon should be done following EPA recommended protocols. If the level is high it is a lot easier and cheaper to remove the radon from the air via ventilation than getting rid of the countertop. A radon gas test can be done for less than $20.
If you are still concerned about your granite countertops giving off direct radiation you can have them tested, but it will cost you between $100 and $300 to have it done.
---
Monster Movie Myth - Tell me something about the Kraken beast of the time of Zeus - Ajiboye
The Kraken actually comes not from Greek legends, but from Scandinavian lore. It is a large, many armed creature like a giant octopus or squid. Early stories describe the beast to be as large as an island.
The Kraken has gotten mixed up with Greek mythology through the 1981 film Clash of the Titans (It also appears in the 2010 remake of the film). Clash of the Titans is loosely based on the Greek mythical story of Perseus. At one point in the story the Gods punish the King of Argos by sending the Kraken, which they refer to as the "Last of the Titans," to create a Tsunami that swamps the city. (This scene inspired the infamous quote favored by movie geeks "Release the Kraken!")
Later in film the heroine, Princess Andromeda, is to be sacrificed to the Kraken in an attempt to save her own city of Joppa. In the myth the sea monster involved in the story was actually referred to as a Cetus. The cetus was probably not an octopus-like creature, but more whale-like in nature as we get our modern word cetacean from it. It might also be related to the word cetea which in Greek art was depicted as serpentine-like fish.
Also referring to the Kraken as a "Titan" was an incorrect use of the Greek term. The Titans were early Gods, not oversized monsters. The King of the Titans, Cronus, was overthrown by his son, Zeus, who became the king of the Olympian Gods.
The 1981 version of Clash of the Titans was the last film made by famed special effects expert Ray Harryhausen and he co-produced the film with his long-time associate Charles H. Schneer. Harryhausen sculpted the Kraken puppet used in the production and it resembles another of his creations, the Venusian Ymir, from one of his earlier films, 20 Million Miles to Earth (1957). The Kraken puppet also has multiple arms, however, similar to the octopus beast Harryhausen made for It Came from Beneath the Sea in 1955.
The closest mythical monster the Greeks had to a Kraken might have been Scylla. It supposedly had four eyes, six long necks with heads equipped with sharp teeth, and twelve tentacle-like legs. It lived on the edge of a strait and would attack ships sailing by. In Homer's Odyssey, Odysseus is forced to pass by the Scylla and loses 6 sailors to it, one to each head.
---
A Matter of Gravity - If all matter has gravity, does that not mean that matter is giving off energy? - John
Gravity and energy can get intertwined, but they are not the same thing. Perhaps we should start with talking about what gravity actually is.
Einstein's theory of relativity says that gravity is the curvature of space due to the presence of mass or energy. The classic illustration of this is picturing space as a sheet of rubber stretched tightly across a frame. Now imagine a large bowling ball plopped into the middle of the sheet. It sinks into the rubber creating a depression. In the same way objects with mass, like the Earth, deform space. If you were to roll a ping pong ball across the rubber sheet so it just grazed the depression, it would wind up swinging around and around the bowling ball, getting closer and closer, as it lost speed. This is very similar to what can happen with an asteroid caught in Earth's gravity. It can start orbiting the Earth closer and closer until it finally crashes to the ground or is burned up in the atmosphere.
All objects, including the Earth, warp space around them. This warping of space creates gravity.
This illustration shows us that the Earth doesn't really "pull" anything toward it, the object simply follows a path though the fabric of space which has been warped by the presence of something very heavy. (It would be more accurate to say the space is pushing the asteroid making its path curve). The Earth doesn't expend any energy in this process just like the bowling ball doesn't spend energy to pull the ping pong ball towards it.
Now that doesn't mean that most matter doesn't radiate energy. For example, most objects if they have a temperature greater then absolute zero will radiate thermal energy. Think about an iron bar that has been heated until it glows a cherry red. It is radiating energy in the visible spectrum that we can see. Even objects that don't glow visibility can radiate heat in the form of infra-red waves.
Probably the most famous application of this was in 1965 when two scientists in New Jersey were trying to figure out why there was static in their newly built radiometer antenna. The found a hissing sound at 3.5 degrees Kelvin that they could not account for. After some phone calls they figured out that that they were listening to the sound of material left over from the "Big Bang." Over the course of a billions years it had cooled down to radiate heat at just a few degrees about absolute zero. Arno Penzias and Robert Woodrow Wilson shared a Nobel Prize for their accidental discovery.
---
The Filthy Facts - What is dirt made of? - John
By dirt I assume you are referring not just to that stuff that we find under our fingernails, but to that stuff that's under our feet when we step outside our houses into the back yard. If so, then more technical word for this material is soil.
Though the exact ingredients change from location to location, soil is about 45% minerals, 25% water, 25% air, and 5% organic material. The mineral portion is simply rock that has been broken and crushed down to tiny particles over time. There are a number of different processes that help break a large boulder down into gains. The most obvious of these is water. In a climate where the temperature drops below zero at night for part of the year, water from rain or snow can work its way into tiny cracks in the rock. When the temperature goes down the water turns to ice and expands, cracking the rock. This widens the fissures allowing more water into the rock so that the process is repeated over and over again.
Plants can also break rock apart. Even in rock newly created from cooling volcanic lava, certain plants can find a foothold by locating nutrient-bearing water in pores in the rock. The plant's roots support a fungus called mycorrhiza that generates chemicals that break up the rock. As the roots grow they can also mechanically widen the pores to cracks, furthering the process.
Both water and wind can also act to erode rock and break it down by scraping tiny particles against it like sandpaper. These broken up gains of rock are known as "parent material" (With the parent being the original rock).
Although organic material only composes about 5% of soil, it's one of the most important parts and absolutely necessary for plants to grow. A single shovel full of topsoil can contain billions of tiny plants, animals and microorganisms. These include bacteria, fungi, and protozoa that can eat the minerals and convert them to nutrients that plants can use.
Soil has definite layers. Starting at ground level we have the area where surface plants and animals live. When living material dies up here it is attacked by bacteria and broken down and turns into humus. Humus is simply organic material that has reached a point where it can be broken down no further and will remain just as it is for centuries.
The next level is known as topsoil and this is where most of the organic material in the soil, dead and alive is. Much of the topsoil is in the form of the aforementioned humus.
The level below that is subsoil. The subsoil has much less organic matter than topsoil, but plenty of nutrients and water, so plants shoot their roots down to this level to get these and pull them back up to the surface.
Weathered parent material is the next level. This has almost no organic material at all and is composed of minerals broken down into small particles. The parent material that created this isn't necessary the same as the bedrock below this level as wind and water may have displaced the granulated minerals from distant locations.
The lowest level is solid bedrock. The distance from the surface to the bedrock varies a lot from location to location, but on average it is about eight inches. It takes about a thousand years for a half inch of soil to develop in nature, but this is dependent of many factors like climate and the hardness of the parent rock material, as well as whether soil itself is eroded away by water and wind.
---
Night With the Devil - In the movie Fantasia there is a work called "A Night On Bald Mountain" by Modest Mussorgsky and during the intro it says that the Bald Mountain is a real location and according to tradition, is the gathering place of Satan and is followers. My question is this has there been any sighting of paranormal activity around the mountain? - Ben
The piece you are referring to was written by the innovative Russian composer Modest Mussorgsky in 1867. This work, unfortunately, was never performed before Mussorgsky's death in 1870. In 1881 his friend composer Nikolai Rimsky-Korsakov did an arrangement of it and this premiered in 1886 quickly becoming a favorite of concert goers the world round. Leopold Stokowski also did a new arrangement of it in the early 20th century and this version that is used in the 1940 Disney film.
Many of Mussorgsky's works were inspired by Russian folklore and Night on Bald Mountain is no exception. The use of the word "bald" is a direct translation from the Russian, but in this case it really means "bare" as in a mountain with no trees. The idea stems from the folklore of Eastern Europe in which witches would meet at midnight on bare hilltops to perform unholy rites. As Mussorgsky himself wrote "So far as my memory doesn't deceive me, the witches used to gather on this mountain, gossip, play tricks and await their chief - Satan. On his arrival they, i.e. the witches, formed a circle round the throne on which he sat, in the form of a kid, and sang his praise. When Satan was worked up into a sufficient passion by the witches' praises, he gave the command for the Sabbath, in which he chose for himself the witches who caught his fancy."
Night on Bald Mountain had a long history. In 1858 Mussorgsky started working an Opera called St. John's Eve using elements from Nikolai Gogol's short story St. John's Eve about a Russian peasant who makes a deal with a witch that costs him his immortal sole. The project was never completed, but some of the pieces may have been transferred to The Witch an 1860 opera project by Mussorgsky based on a play by the same name written by Baron Georgy Mengden, a friend of the composer.
It was Mengden's play the first introduced the idea of a witches' Sabbath as the centerpiece of the music. The Witch was never completed, but Mussorgsky used elements of it to compose St. John's Night on the Bare Mountain (the original title of the piece) in 1867. The work was meant to be a "tone poem" which means it is meant to illustrate a poem, story or picture. In this case the music is used to evoke in the listener a picture of a meeting of witches with their master, Satan.
So where is the Bald Mountain at? Lysa Hora is the location identified by Mussorgsky in his notes. Lysa Hora is not so much a mountain as a low hill located inside the boundaries of the Ukrainian capital city Kiev. The name translated into English comes out as "Barren Mount" or "Bald Mount." Though today the hill is fairly wooded, in earlier times much of it had no trees. It is referred to as a meeting place of witches in works by Gogol and Mikhail Bulgakov.
In 1872 the Russian Army built a fort on the hill. Later this was converted to a storehouse. Beginning in 1906 the Tsarist government used it as an execution place for over 200 prisoners. Today it is a nature preserve.
There are claims that the place is haunted and people have allegedly had paranormal experiences there, but whether this is because there is something abnormal about the place, or people are simply being affected by its reputation is unknown.
Lysa Hora is just one of a number of "bald" mountains in Eastern Europe that have an evil reputation. Zamkova Hora, also in Kiev, has a similar status. In Germany the Brocken, the highest peak of the Harz mountain range, is also known as a bare mountain where witches meet. Johann Wolfgang von Goethe used it in his in his play Faust. The Brocken spectre, an optical illusion that looks a bit like a ghost, but is caused by fog and bright sun behind a person, maybe the one of the reasons that this particular peak has a reputation for paranormal events.
Despite the popularity of the Rimsky-Korsakov version, modern music historians suggest that in "fixing" Mussorgsky's music Rimsky-Korsakov was really changing the character of the work and making it more bland and acceptable to audiences. The original version has now been recorded and it is a quite a bit more of the nightmare that Mussorgsky meant it to be.
---
Without the Moon - My question is a hypothetical one: what if, for whatever reason, the moon would suddenly be gone? Would it gravely affect life on Earth? I understand life would probably not have started if it weren't for the tides caused by the Moon, but are humans still depending on tides, directly or indirectly? And what about the weather in a Moonless world? - Johan W.
As you noted, if Earth had never acquired the moon our planet would be very different place. In fact, it might not have intelligent life, or perhaps no life at all. The moon was created when a Mars-sized body struck the Earth about 30 million years ago after the Earth itself formed. This caused a huge amount of the Earth's crust to be blown into orbit. Eventually it coalesced into a single, large body that was an unusually large moon given the size of its mother planet. The fact that a large portion of Earth's crust found its way into orbit may be responsible for us having the multi-plate tectonics that have created our continents (Because the moon's gravitational forces help keep the Earth's guts warm and moving). Without continents we might find ourselves living on a "waterworld" with no land. This might not mean there wouldn't be any life, but without dry land fire and other technologies might not have developed limiting the expansion of civilization.
The sun would still give the oceans tides, but they would be weak. Without the moons helping to "mix" Earth's oceans life might not have appeared, or it might have developed much more slowly. Also the moon's tides have also been responsible for slowing the Earth's rotation. Without this we would probably have shorter days and typical wind speeds of over 200 mph.
So if there was not moon from the beginning, the Earth would look like a much different place. But suppose, as in your question, it just suddenly disappeared someday. Would we notice?
The changes would be more subtle, but still significant. The moons tides create moving stream of water in the oceans which can affect our weather. These tides carry much heat away from the equator and up towards the poles. Without them we would expect the lower latitudes to be much warmer, which might change weather patterns. For example, without the moon we might find that the Pacific Ocean's El Nińo winds might simply go away or change. We might also expect to see some rain-soaked lands turn into deserts or visa versa. Undoubtedly this would also affect storm patterns across the globe.
The gravity of the moon also causes the ocean levels to be higher near the equator, and lower toward the poles. If the moon suddenly vanished we would find coastlines changing as water moved from lower latitudes to higher ones. Your beach front condo might suddenly be miles from the ocean.
We might find a number of animals unhappy with the sudden loss of the moon. Many creatures along the shore are highly affected by tides and depend on them. A number of nocturnal creatures are adapted to operate on moonlight so we would probably see these die out to be replaced with other species adapted to just starlight.
Humans have also benefited from moonlight, but with our invention of electric lights the loss of lunar illumination, might only be a minor annoyance. Even in our modern world, however, certain human patterns, like conception, seem still to be linked to the phases of the moon. Perhaps these are just psychological, but they are still real.
Humans, of course, need to take into account the movement of tides in ship navigation, so without the moon, this would change. There is some technology now that uses tides to generate electricity (by driving turbines as water moves in and out of a bay) and these would become much less efficient if the weak tides associated with the sun were the only forces moving the ocean. The lack of large tides would also impact at least one popular sport and, as one scientist put it "The surfing would suck."
So we would see quite a few significant changes to the Earth's environment, with no moon, but they won't necessary be catastrophic. And course there is an upside: we wouldn't have to worry about werewolves.
---
German Strategic Bombing - I came across a reference to a General Walther Wever. He seemed to be the main proponent of [German] strategic bombing until he died (some say mysteriously) in 1936. My question is what do you think would have happened had he lived? Might he have convinced Germany of the need for powerful long range bombers, like the ones the Allies used on Germany, sooner rather than later? What effect might it have had if the Germans could do the same to the Allies as they did to them? - Michael
Let me start by giving a little history of General Wever for those not familiar with him. He was born in 1887 and served as a German staff officer in WWI. During the period in between the war he was appointed Chief of Staff of the Luftwaffe and was a proponent of a balanced German air force that was both capable of tactical operations in support of front line troops and strategic operations designed to destroy an enemy's resources and ultimately his ability to make war. Wever died in 1936 flying back from Dresden to Berlin when the plane he was aboard crashed shortly after takeoff. An examination of the wreckage revealed that locks designed to keep the control surfaces of the plane from being damaged by high winds while parked had not been removed during the pre-flight check. This rendered the plane uncontrollable in the air.
Certainly if Wever had prevailed in convincing the Germans to build more strategic bombers it would have changed the course of the war. Wever recognized that the Soviet Union would be a particularly hard enemy to beat if the Russian industrial production located beyond the Ural Mountains could not be damaged. This required a bomber capable of flying at least 1,240 miles carrying a bomb load of 3,300 pounds (a type of plane nicknamed the "Ural Bomber"). Wever got two prototypes of such a bomber ordered before his death: The Dornier Do 19 and the Junkers Ju 89. By the time they were delivered, however, Wever was dead and, Albert Kesselring had taken his place. Kesselring didn't see a need for Germany to invest in heavy bombers and convinced his boss, Hermann Göring, Commander-in-Chief of the Luftwaffe, to cancel the program. Perhaps Göring felt that such bombers would be of limited use against a strong air defense. He seemed to think Germany would be able to fend them off. In 1939 he boasted "The Ruhr will not be subjected to a single bomb. If an enemy bomber reaches the Ruhr, my name is not Hermann Göring!" It seems as if Göring regretted his decision as time went on, however, when the Allies started reducing German cities to rubble. He blamed the bad call on his advisors who said heavy bombers weren't as effective as medium ones, "Well, those inferior heavy bombers of the other side are doing a wonderful job of wrecking Germany from end to end," he said, bitterly.
If Wever had lived could he had talked Göring into seeing the need for strategic bombing? Perhaps. Working against him was the general belief, however, that the German's had that the war would be relatively short. Only three years. They didn't expect it to drag out and become a war of attrition. This timeline colored the German thinking in many ways including the decision not to invest heavily in the atomic bomb (which was a four or five year-long project).
Ironically if Wever had lived and convinced Göring to build a heavy bomber force it might have actually shortened the war dramatically by tipping the scales in Germany's favor during the Battle of Britain. The German air force was ill equipped for the job of gaining air superiority over Britain by destroying its aircraft industry and fighter squadrons. The Junkers Ju 87 "Stuka" dive bomber, in which the German's had heavily invested, and which had performed so well during the blitzkrieg victories early in the war, were easy targets for the well-organized British fighter defense and had to be withdrawn from the battle.
One can only wonder what might have happened if Wever was around and his heavy bombers had pounded Britain the way the Allied bombers pounded the Germans later in the war. If the Germans had managed to gain air superiority, Operation Sea Lion, the invasion of Britain, would have followed. If successful this would have stopped the British strategic bombing of Germany before it really got started and deprived the U.S. of airbases it needed to attack Germany with its B-17 squadrons.
This would have left the United States and Germany peering at each other across the Atlantic. Germany could have then proceeded with its "Amerika Bomber" program and the U.S. would have been forced to develop its own trans-Atlantic bomber. How the war would have ended is anybody's guess, but whoever invented the atomic bomb first probably would have been the winner.
---
Steam Punk Sub and Plane - Could someone build a steam powered submarine or airplane? - Jacob
Both of these feats have already been done! The first steam powered submarine was the the Ictíneo II built by Spanish inventor Narcís Monturiol Estarrol in 1864 and modified from human to steam power in 1867. The problem with powering any kind of submarine is the most engines burn oxygen and quickly use up the limited air inside a submerged vessel stopping the engine and killing the crew. Estarrol powered his sub, however, by using a chemical reaction between potassium chlorate, zinc and manganese dioxide. This reaction generated enough heat to turn water into steam and drive a turbine engine to push the sub forward. As a bonus the reaction also produced oxygen which allowed the crew to remain underwater to eight hours. Unfortunately this history making boat was destoryed after only 20 demonstration dives when the shipyard that built it scrapped it when Estarrol couldn't pay his bills!
It wasn't until 1913 that anybody tried to use a steam engine on board a submarine again. The British were interested in making their subs fast enough to keep up with the rest of the fleet, so they put a boiler and steam engines into their K-Class subs. The steam engines only worked on the surface, however, and when the boat submerged they had to use standard batteries.
During WW II the German's developed a steam powered sub using the same principals as Estarrol. The boat carried a tank of hydrogen peroxide which when run through a catalyst produces oxygen. The oxygen, burned with diesel created the heat to make steam and drive a turbine. The United States experimented with this idea after WWII, but dropped further development in favor of subs with nuclear power plants.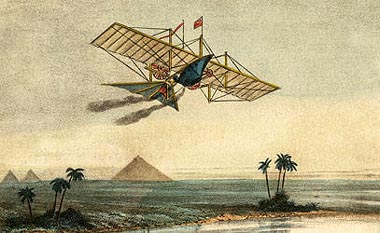 Now for the airplane. As early as 1842 two enterprising Brits, William Samuel Henson and John Stringfellow, patented a design for an "Aerial Steam Carriage" which would carry passengers. The two had more success at publicizing the device using beautiful lithograph advertisements of the plane flying over exotic locations like the Egyptian pyramids (left), than actually getting it into the air, however. The problem they had was that steam engines, compared to the modern internal combustion engine, has a much poorer power to-weight ratio. This is less of a concern with something like a railroad locomotive that stays on the ground, but is a critical factor for an airplane.
In the 19th century, however, internal combustion engines were in their infancy. Though they would eventually have a much better power-to-weight ratio than steam engines this wouldn't be until the 20th century. Also early internal combustion engines tended to be unreliable, stopping without warning. Not something you like to see in an airplane engine.
So inventors worked as best they could with steam engines. Hiram Maxim, inventor of the machine gun, also dabbled with aviation and built a massive three and a half ton airplane powered by two 360hp steam engines which he tested on a track near Bexley, England. Unfortunately during a ground test in 1884 the track failed and the machine flew loose. As it was uncontrollable in the air, it immediately crashed and Maxim decided not to rebuild it.
In 1899 there are claims that Gustave Whitehead built and flew a steam-powered airplane near Pittsburg, Pennsylvania. The plane supposedly got off the ground and crashed into a building. However, there is little historical evidence for this story.
The first clear example of a steam power plane actually achieving a controlled flight was in the 1930's when George D. and William J. Besler converted a Travel Air 2000 aircraft to use a light steam engine. The two brothers started on the project just to see if it could be done and demonstrated some successful flights at the airport in Oakland California. One observer noted the plane, without the roar of an internal combustion engine, was extremely quiet and the pilot could converse with people on the ground from an altitude of 200 feet. It was also capable of very short landings as the propeller could be instantly reversed after the wheels touched the ground to slow the plane. The steam engine also used less flammable type fuel than fuel which saved money and lowered the chances of a fire during a crash.
Despite some enthusiasm for steam-power flight from the press at the time, the plane turned out to be never more than a novelty and an interesting footnote in aviation history.
---
Atlantis Found On Google Earth? - There is an underwater grid-like structure in the Atlantic Ocean northwest of Africa. This is clearly seen from Google Earth at coordinates 31 29'31.63"N 24 27'49.31"W. I have checked all the accompanying data and there is no logical explanation. - Victor N.
When folks first began noticing this strange looking structure in early 2009 some people thought that it might be evidence for the existence of the lost continent of Atlantis. The grid structure looks a lot like city streets though the size (about 90 miles square) seems a bit big for ancient city.
Dr Charles Orser, a curator of historical archaeology at New York State University and an expert on Atlantis, thought the anomaly was fascinating and warranted further inspection. "The site is one of the most prominent places for the proposed location of Atlantis, as described by Plato. Even if it turns out to be geographical, this definitely deserves a closer look," he added, speaking to the Sun newspaper.
However, a closer inspection of the data reveals that it is only an artifact in the way underwater topography for Google Earth has been put together. As you may guess getting the data needed to map terrain heights underwater is a lot more difficult that getting the same information on land. The data from Google Earth comes from several sources and the information is combined to get as accurate a picture of the ocean floor as is possible.
One set of information comes from satellites that use radar to measure the height of the ocean. Because a large underwater mountain has more mass than an underwater plain, the gravity over the underwater mountain is stronger. This means that over the mountain a "hump" of water forms. This is too small to be visible to the naked eye, but the radar of the satellite can sense it. Because the satellite sees the hump on the surface, we know there must be a mountain underneath it and it gets put on to the map.
This method is great for mapping large areas of the sea bed, but is limited to finding really big things like mountains, valleys and plains which may be miles in size.
Another method of mapping the sea bottom is to get a boat and use downward pointing sonar (bouncing a sound wave off the bottom) to get an exact measurement. This is very, very accurate, but can only give you the depth directly under path of your boat.
When these two sources of information are combined into one map you can get some strange results. For example, information from the boat sonar can tell you that the depth of the water is a little deeper than the satellite data says it is for the same area. This isn't totally unexpected as the satellite data is known to be less accurate. The map favors the boat's sonar (because it is known to be more accurate) so it uses it when it is available. However, since survey information by boat sonar is not available for most of the ocean, the area on either side of where boat sailed still depends on the satellite data. The result can be a straight line across the map following the path of the boat which looks like some kind of artificial structure, but really just an anomaly in the data.
Apparently in the case of this area in the North Atlantic there was a fairly intensive survey done using boat sonar with the boats following a grid pattern. I've found some evidence that this was related to a project to see if this region of the Atlantic Ocean would be a good place to dump radioactive waste. The data is still around, but apparently the project was cancelled.
Good thing too. I don't think those Atlantians would be very happy if we dumped a few hundred tons of atomic waste on their home…
---
Hope Diamond - I've heard several stories about the 'cursed' Hope diamond. Most stories about the Hope diamond say its owners had a violent death. Is there any proof of this? Thanks! - Kelsey
The curse of the hope diamond, the largest deep, blue diamond in the world, is much like the curse of King Tut's Tomb: It has some roots in actual events, but much of the story has been much exaggerated. In the case of the diamond the culprits include the early 20th century press and a few of its owners hoping to pump up its sales value.
The story has it that the diamond was originally one of two eyes stolen from a statue of the goddess Sita somewhere in India. The priests cursed whoever owned the stones from that point on. There is absolutely no evidence that this story is true, however. It appears to have originated in a New Zealand newspaper article in 1888 as a bit of hoax journalism.
It is believed, however, that the diamond was brought back from India in the form of a 115 carat rough-cut, triangular stone by French traveler Jean-Baptiste Tavernier in the 17th century. It is thought that in 1669, Tavernier sold the blue diamond along with a bunch of other valuable stones to the French King Louis XIV. Louis XIV had the court jeweller, Sieur Pitau, recut the stone into a in a 67 carats diamond which became known as the French Blue.
During the French Revolution it was stolen and did not appear again for twenty years when it showed up in the collection of a London diamond merchant named Daniel Eliason. By then it had been re-cut into its current 45.5 carat shape. Although many suspected the Hope was cut from the French Blue, it wasn't certain until a lead cast of the French Blue diamond was discovered in 2007 allowing the two to be compared, so the suspicion could be confirmed.
It is thought that the stone was purchased by King George IV of England, but later sold to cover debts. By 1839, the Hope Diamond was in the gem collection of Henry Philip Hope and it stayed with the family until Lord Francis Hope sold it in the early 20th century to a diamond dealer. It bounced around several dealers until it was bought by Pierre Cartier in 1910. Cartier was able to interest American socialite Evalyn Walsh McLean in the stone and she purchased it in 1912 and wore it at many gatherings until her death in 1947. In 1949 it was sold to diamond merchant Harry Winston who donated it to the Smithsonian National Museum of Natural History in 1958 where it has remained ever since.
As the title of a 1908 Washington Post article, "Hope Diamond Has Brought Trouble To All Who Have Owned It," suggests the stone has been supposedly responsible for much calamity for its owners. The beheadings of Louis XVI and Marie Antoinette have been blamed on it, but the story seems to ignore the dozens of other royals who didn't own the stone but lost their lives in the French Revolution. The death of a former owner, Selim Habib, was blamed on the diamond, but the truth was it was actually another man who drowned in a shipwreck who happened to have the same name. The insanity and suicide of diamond dealer Jacques Colot has been attributed to the Hope, but there is no historical record that he was associated with it in anyway. The forced abdication of Turkish Sultan Abdul Hamid is supposedly the work of the diamond, but evidence shows that though the Sultan was interested in the stone, he never bought it. According to the legend, Tavernier, who brought back the stone from India supposedly died of a fever soon afterward, but in reality lived to the ripe old age of 84 (Quite a longevity achievement for the 17th century).
Actress May Yohe, the former wife of Lord Francis Hope, helped promote the story of the curse, not to just explain misfortunes in her own life, but also to promote her career. In 1921 she persuaded film executive George Kleine to produce a 15-part action serial, The Hope Diamond Mystery, in which she played Lady Francis Hope. She also played the same part in The Mystery of the Hope Diamond.
Of course are some people associated with the diamond that did have tragedy in their life. The last private owner was Evalyn Walsh McLean. She had a son die in a car accident and her husband ran his business, The Washington Post, into the ground (it was purchased and brought back to health in the 1930's). He then left her for another woman and eventually died in a sanitarium. Despite this McLean lived to the age of 60 and never blamed her problems on the curse.
So is there a curse or not? It is extremely difficult to separate the normal amount of tragedy we see in life from what might be caused by some supernatural power. Plus much of what is blamed on the diamond is appears to be just made up. Perhaps it is instructive to look at the first and last owners of the diamond to see how they fared: Tavernier and Winston. Travernier, who is the person blamed for taking the diamond from the idol in the first place and should have borne the brunt of the curse, lived into his eighth decade. Winston, the last owner, was an immigrant who moved to the United States and built a successful jewelry business from nothing. The business continues to be extremely profitable even today. Winston died in 1978 at age 82 never believing in the curse.
Of course, in any case nobody needs to worry about the curse anymore. The Hope Diamond is the property of the Smithsonian Institution which is a part of the United States government so there is no concern that - hummm - Wall Street problems, housing crisis, terrorist concerns, health care costs - perhaps there is something to that curse after all...
---
Warp Factor One Plus - Two objects move apart each at just over the speed of light. Can they observe each other? - Dave B.
I take your question to be "If I hopped on one spaceship and my friend jumped in another and both took off going faster that the speed of light in opposite directions, could we look behind us and see each other?" The short answer is no. The light coming from your friend's rocket would never catch up to you, so you would never see him. However, things are a little more complex than that.
This is an interesting "thought experiment" of the type that Einstein would use to explore questions in relativity. (One of his thought experiments was "If I rode a bike near the speed of light, what would I see?").
From a practical point of view you couldn't actually do it. Nothing with "rest mass" (which is pretty much anything you need to build a spaceship out of) can go faster, or even as fast as the speed of light, which is a sizzling 186,000 miles a second in the vacuum of space. Things get more and more massive as you accelerate them and you would need more energy than is available in the universe to accelerate a spaceship to the speed of light.
What would you see if you were on a rocketship, or Einstein's bike just approaching the speed of light, however? Would the beam from the bike's headlight slow down to a crawl?
No, from the rider's point of view the light of the beam would still move away from him at the speed of light! That's because while the speed of light is a constant, time isn't. Time would slow down for the rider so that when he measured the speed of his headlight, it would still seem to be going at 186,000 miles a second away from him.
As you approached the speed of light the world behind you would seem to turn shades of red. This is because as you move really fast the light waves coming from behind you are stretched out - a phenomenon known as the Doppler Effect (it's the same one that causes a car horn to appear to lower its pitch as the car passes by you).
Although it is impossible to build spaceships that go at the speed of light, you can actually observe what would happen when you look at the stars with a big telescope. Space is expanding a carrying all the stars and galaxies (collections of stars) along with it. This means the father a galaxy is from us the faster it is moving away from us. In turn the farther a galaxy is away from us the more its light will be "red-shifted" by the Doppler effect (In fact astronomers use the amount of the "red-shift" to tell how far an object is away from Earth). Galaxies very, very far away from us appear to be going near the speed of light. Because they are simply being carried along as space expands, the rules about acceleration to the speed of light do not apply here. As they start to move away from us faster than the speed of light the light waves arriving from them get longer and longer and redder and redder until they simply disappear.
For more Q&A check the archive!
---
Got a question? Click here and fill in the form. Best questions will be displayed here on the site. Let us know if you want your name withheld. We reserve the right to edit the questions for content and length. We may not be able to answer every question we get.

Copyright Lee Krystek 2000. All Rights Reserved.